4m Group is an international group with a foundation of common values uniting all our employees.
These values represent our commitments and expectations towards all our stakeholders and serve as a reference for anyone working on behalf of the group. They are a guide to providing our customers with an excellent service which in turn establishes and maintains long-term relationships with our employees and partners.
Customer Focus 
We listen to our customers from the first contact until the finished project. Finding the right solution for their needs guides the daily work of our teams.
We deserve our customers' trust because we always keep our word in terms of quality and deadlines. Their satisfaction is our greatest achievement
Quality - Expertise - Professionalism - Continuous improvement
EXCELLENCE and continuous improvement  
The professionalism of the 4m Group's teams is internationally recognised. All our employees and applicators are experts in problem analysis, advising on the best solution and product application. We share our know-how with our teams for whom we regularly organise training sessions. Find out more at: 4m Academy.
Team & Respect
4m Group is more than a hundred talented people, available in several countries, waiting to share their know-how, passion, energy, flexibility and integrity with you.
We are convinced that teamwork provides a better service for all our customers.
Collaboration and communication are the keys to teamwork at 4m Group.
Sustainability – Safety – Talent – Social responsibility - Environment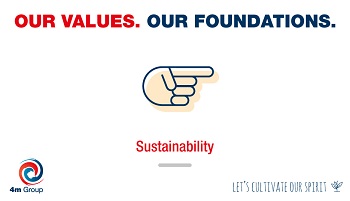 Sustainability
At 4m Group, health, safety, quality and the environment are at the heart of our day to day concerns. For more information visit: « link to HSQE »
At 4m Group we pride ourselves on the quality of our service, the flexibility of our teams and our respect of deadlines and commitments.
Team spirit - Collaboration - Communication - Integrity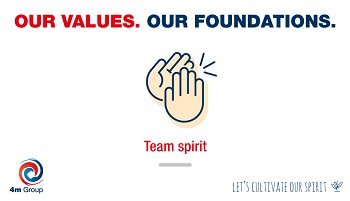 A GREAT TEAM
Dominique Petta and the members of his family can count on more than a hundred experienced, passionate and attentive employees in several countries to guarantee their customers an optimal result.
Through the diversity of their origins, their experience and their cultures, the employees of 4m Group are its main asset.
Collaboration and communication are the keys to teamwork at 4m Group.
Our staff put their know-how at your service with passion, energy, flexibility, reactivity and integrity.