From a family business to an international group
As an entrepreneur at heart, Dominique Petta discovered resin flooring in 1995. He launched a partnership with an internationally renowned company called Flowcrete. 4m Europe was created in 1998.
4m Europe is today part of a holding company grouping the various activities in Belgium and abroad.
The companies of the 4m Group holding produce and install resin floors for the food, healthcare, pharmaceutical, electronic, aeronautic and retail industries, and also for car parks, in the public and private sectors.
In 2013, Loris Petta joined the company followed in 2017 by her sister Chloé. Loris Petta is currently Business Unit Manager and Chloé Petta is the HR Manager.
A rapidly growing group
4m Group has integrated the technological innovations of resin flooring, market developments and regulatory requirements (standards and certifications) to sustain its activities and ensure its economic competitiveness in the resin flooring sector.
Over the past 15 years, 4m Group has recorded an average growth in annual turnover of nearly 10%.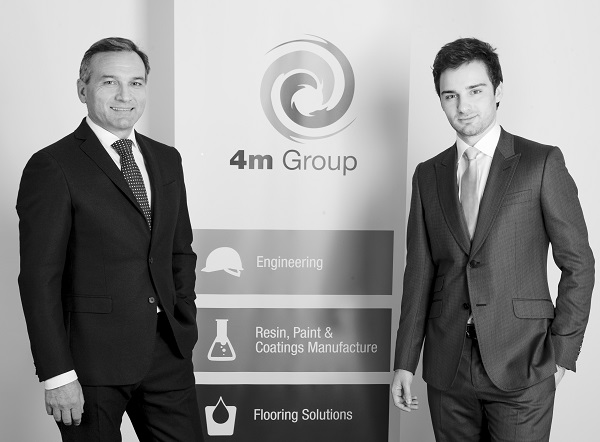 Several sectors of activity
Installation of resin flooring:4m Group is the ideal partner in the application of epoxy, polyurethane, acrylate, methyl methacrylate (MMA), vinyl ester, hydraulic and terrazzo-based floors that meet the highest standards in terms of hygiene, safety, environment and use. 4m Group provides a complete service from start to finish for both new and refurbished floors.
Production of resin and special coatings: 4m Group offers the market a wide range of coatings and specific waterproofing resins, from repair mortars to anti-corrosion treatments, as well as acrylic and latex paints.
Engineering: 4m Group offers a wide range of services for repairing infrastructures such as concrete constructions, roads and piping.
Installation of resilient floors and special techniques.
Thanks to its quality products and services, these days 4m Group exports to the majority of European countries, Africa and the Middle East. Since 2012 more than 30% of the turnover is represented by exports.
Twisty puzzle solving offers an entertaining way of improving your dexterity and problem solving skills.